About Doctor
10 Years Caring About You
Dr. Gajanan Deshmukh- Trauma surgery in Aurangabad
Dr. Gajanan Deshmukh is Orthopedic Surgeon and Known as one of the best Knee Surgeon in Aurangabad. He is also an Expert doctor for Knee replacement, Shoulder and knee arthroscopy, Minimally invasive surgery, Trauma surgery in Aurangabad.
Dr. Gajanan Deshmukh is completed MBBS from MUHS Nashik, with first-class grades in all MBBS years. For postgraduation (MS Ortho), He ranked in all India entrance examination &  get admission to NSCB medical college Jabalpur. He passed MS with good marks. He has his own best publications and poster presentation in various regional, international conferences. He has published research papers in an international publication like South Africa Malesian orthopedic journal. He has done with Indian, international fellowships in arthroscopy, joint replacement surgery.
MBBS MS ORTHO, MCH (Ortho)
FELLOWSHIP s
1. FELLOWSHIP IN SPORTS MEDICINE (New Delhi)
2.FELLOWSHIP IN KNEE AND SHOULDER ARTHROSCOPY
3. FELLOWSHIP IN HIP AND KNEE ARTHROPLASTY (Switzerland)
4. FELLOWSHIP IN SHOULDER ARTHROSCOPY AND SHOULDER ARTHROPLASTY (TEL AVIV. Israel)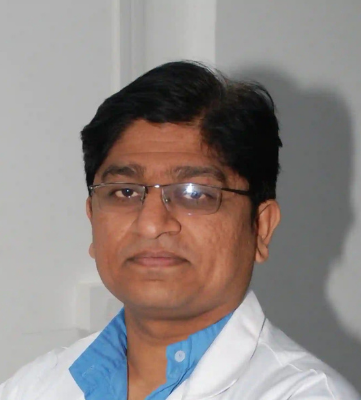 More About Knee Surgeon and Trauma surgeon in Aurangabad in Aurangabad
GOLD MEDAL for best post-graduate paper presentation at  CEZCON  2009 at Bhopal.
GOLD MEDAL for best poster presentation at CEZCON 2010 at Jaipur.
Rank third in the University in MBBS (Bachelor of Medicine/Bachelor of Surgery)
Dr. Ga janan Deshmukh, Prof. H.K.T. Raza, "our experience of deformity  correction at Lifeline Express,"  at CEZCON  2009, Bhopal.
Dr. Ga janan Deshmukh, Prof. H.K.T. Raza, "Result  of triple arthrodesis and Robert
Jones procedure  operated at life line express,"  at CEZCON  2010, Jaipur.
Dr. Ga janan Deshmukh, Prof. H.K.T. Raza, "Infantile septic  arthritis of knee:  case report  of long term  follow up,"  at CEZCON  2010, J
Dr.  Ga janan Deshmukh, Dr.  HKT Raza, "Letter to  the  Editor", SA Orthopaedic Journal Autumn 2014, Vol 13, No 1, page:21.
Dr. Ga janan Deshmukh, "The  role of ligamentum flavum calcification  at  lumbar  spine causing cauda  equina syndrome  and lumbar  radiculopathy: case report", Journal of Evolu- tion of Medical and Dental  Sciences 2013; Vol. 2, Issue 42, October  21; Page:  8150-8155.
Dr.  Ga janan Deshmukh, Dr.  HKT Raza, "Experiences  of Orthopaedic Camp  in a Mobile Surgical Unit  (Life Line Express)  in Central Part of India",  Malaysian  Orthopaedic Journal 2013 Vol 7 No 4.
Successfully completed knee and shoulder arthoscopy fellowship by ISKSAA IN, June  2015.
Successfully completed training in total hip replacement and  total  knee replace- ment under Prof.  Guyen at Lausen University, Switzerland (accredited by ortho- pedics association).
  Successfully completed  shoulder  arthoscopy AND artroplasty  fellowship at TEL AVIV ISRAEL IN 2018
Rotatory Internship from 23/02/2006 to 22/02/2007 in S.R.T.M.C, Ambajogai.
Worked as Postgraduate resident in department  of orthopaedics for 3 years  in NSCB Medical College Jabalpur from 10 June  2008 to 09 June  2011.
Participated in Departmental curriculum of Case presentations, Seminars, Jour- nal Reviews and Under  Graduate Teaching  programme.
Worked as senior registrar in Dept.   Of Orthopaedics, L.T.M.C.G.H. SION 22, Mumbai  from 10th September 2011 to 31st July  2012.
worked as  assistant professor  in  dept  of orthopaedics at  Dr.Ulhas  patil medical college Jalgaon  Maharashtra from for 2and half years Workimg as assistant professor at GMCH  Aurangabad Maharashtra from june 2019 till date
Attended Arthopasty Cadaveric Workshop at  AIIMS New Delhi,  October  2014 in ISSAKA Conference
Attended the 53rd ANNUAL  CONFERENCE OF  INDIAN  ORTHOPAEDIC ASSOCIATION at Bangalore  2008.
Attended 9th ANNUAL CONFERENCE OF CENTRAL ZONE at Bhopal 2009.
Attended 28th ANNUAL CONFERENCE OF MPOTHOCON at Bhopal 2009.
Attended 1st national social orthopaedics conference at Jabalpur 2009.
Attended 10th ANNUAL CONFERENCE OF CENTRAL ZONE at Jaipur 2010.
Attended the 55th ANNUAL  CONFERENCE OF  INDIAN  ORTHOPAEDIC ASSOCIATION at Jaipur 2010.
Attended workshop on the  Principle  & Practice of orthopaedic research  & pub- lication  at UCMS & GTB  Hospital  Delhi on 7th December  2010.
Attended Prof.R.H.Bhalchandani fellowship at Dept of orthopaedics Jabalpur.
Attended 19th LTMCGH Fracture fixation course in October  2011.
Attended 45th Western India  Regional Orthopaedics Conference on 29th Dec to 31st December  2011.
Training at Ichilov Hospital Tel Aviv Israel
"Health is the most important thing you have in life!"
Contact us now to schedule an appointment.