Our Services
Plaster Application
Plaster Application
The basic aim of a plaster application is immobilization of the fracture fragments and joints. A temporary measure of pain relief and reduction of swelling so that definitive treatment could be executed. For immobilization of joints in case of ligament injury, joint swelling due to disease. A splint for undisplaced fractures. A definitive treatment where the plaster is applied to maintain the reduction of the fragments. External splint to aid with the internal fixation of the fractures, osteotomies, and other bone surgeries where internal fixation alone would not be able to withstand loads. External splint for blocking movements in case of nerve, tendon, or vessel repair.
XRAY Services
An x-ray, which is short for x-radiation, is a type of imaging test that has been utilized for years. With this technology, doctors can see your bones, muscle and more without having to make an incision. This helps them diagnose, treat and monitor a number of different medical conditions. X-ray images are created using a machine that sends x-ray particles through the body. The x-ray particles themselves are called photons, and they allow a specialized film or computer to capture the images that are created.
At our hospital, we provide an x-ray facility for our patients under one roof.
Dressing Services
The dressings are indicated for chronic wounds such as leg ulcers and pressure ulcers: and acute wounds such as superficial burns, superficial partial-thickness burns, donor sites, postoperative wounds, and skin abrasions. The dressing can stay on for up to 7 days depending on the specific wound characteristics.
At our hospital, we have experienced nursing staff for surgical and nonsurgical wound dressing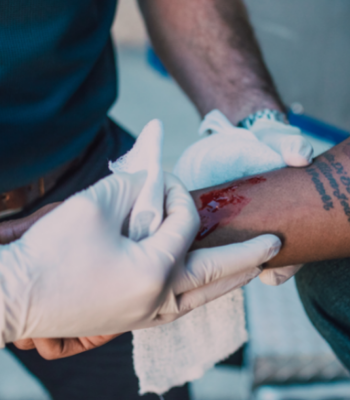 "Health is the most important thing you have in life!"
Contact us now to schedule an appointment.